Mobile Applications (APP'S)
Businesses making mobile strategies an important part of their online strategies will benefit from engaging with the new, constantly connected consumer. DigiAstrum builds mobile apps that can be developed to work alone or integrated with an existing web application or website. We construct native mobile apps using the latest technology, to deliver content and functionality to users through an optimized and intuitive interface.
Whether your goal is to increase brand awareness and engagement, increase revenue through an e-commerce app, acquire consumer information, or extend your local reach with social media, DigiAstrum app developers will build you a mobile app that engages the potential user and enhances your business's results. Our developed mobile apps can be connected to the database, work across various platforms, and have social plug-ins. Our apps also offer custom plugins and widgets, in-app-purchases, video streaming, geo-location and much more. DigiAstrum app professionals will consult and develop the mobile solution best suited to your business goals and target audience.
Mobile APP Development Services
HTML 5 Application Developments
HTML 5 technologies enables the development of visually stimulating and highly-optimised mobile applications. Using agile app development processes and HTML5/CSS3 applications, we provide innovative, high-performing mobile web applications. Our HTML 5-based web solutions seamlessly integrate across any mobile device and are secure and sustainable.
Internal Business Apps
Every business is reaching out for increased productivity and efficiency in the workplace. Our high-performing, custom-designed mobile applications allow our clients to unleash their business potential and increase their workforce's performance by bringing the power of streamlining to their workday. No matter whether you are in entertainment or healthcare, we build cross-platform business mobile applications that are tailored to your technology strategy and target your customer base.
Mobile E-Commerce Application Development

Mobile users make quick decisions when it comes to shopping on their mobile devices. We build secure mobile e-shop apps that portray your brand and set you apart from the competition.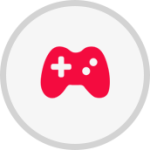 Game Development

Branded games can be a great tool to build brand recognition, interact and engage with your customers. While paying attention to social media, we can also help to widen your reach beyond the usual avenues. We develop fun and interesting games that are targeted to specific audiences and sold as the premium in the market place.
Interactive Displays
These types of apps had seen a big increase within the retail industry. We help brands to create touch-based, interactive store experiences as well as run promotional campaigns by building apps for interactive displays that are built to entertain and convert. These apps also help to educate your potential consumers about your brand and improve their shopping experience. Interactive Display apps might also be used as valuable e-learning tools.
Social Media Applications
Social Apps are the unbeatable part of everyday mobile browsing; therefore, brands that have social media applications are ahead of the game when it comes to brand loyalty and content sharing. We build cross-functional platforms that are made to interact with, engage and convert your target audience.
Mobile Applications Statistics
Monthly Usage of  Mobile APP's
89% of time spent in online media is through mobile apps